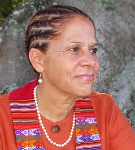 For nearly 40 years Rev. Ogla has been a dedicated student and searcher of spiritual traditions. Her personal spiritual journey culminated in her graduation in August 2013 from Holmes Institute of Science of Mind with a Masters of Divinity.
With an understanding of the traditions and practices of World Faith Religions, Rev. Ogla can help you create ceremonies which incorporate the best in Jewish, Christian, Islamic, Buddhist, Hindu, Taoist, Celtic, North American Spirituality, New Thought traditions and many other expressions of religion or cultural heritage.
Her extensive study of New Thought and the world religions along with an open heart uniquely enables Rev. Ogla to embrace any and all paths as a pathway to humanity's expression of the Divine within us All.